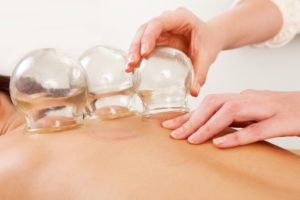 30 Minutes $65.00
Cupping therapy is an ancient form of alternative medicine in which a local suction is created on the skin; practitioners believe this mobilizes blood flow in order to promote healing. Suction is created using heat (fire) or mechanical devices (hand or electrical pumps).
Cupping has numerous benefits — it can help remove toxins from the body and stimulate the flow of fresh blood, lymph, and Qi to the affected area and throughout the body. It often works wonders for patients with the flu, colds, coughs, back and muscle pain, poor circulation, anxiety, red itchy skin conditions (though cups are not applied to inflamed areas), allergies, fevers, aches and myriad other pains.
Cupping is not exclusive to Traditional Chinese Medicine. Variations of this treatment were used by ancient Egyptians, North American Indians, early Greeks, and in other Asian and European countries. Cupping therapy was recommended by Hippocrates, the man whom many consider to be the "Father of Modern Medicine," in his guide to clinical treatment.
It should be noted that cupping is not be used on patients who bleed easily and/or cannot stop bleeding, have skin ulcers, or edema. It is unwise to cup over large blood vessels as well. Pregnant women should be cupped with extreme caution and never on their abdomen or lower back.